Around Kampot
Across the River (West Side) the first big road to the right from either bridge, takes you to the Kampot Zoo (about 20 minute ride and $5 entrance fee), lions, tigers and bears (and maybe some monkeys), and the Kampot River rapids, Teuk Chhou, an informal park for eating, drinking, sleeping, and playing in the water. Take your own motorcycle or get a motorcycle taxi or Tuk Tuk for about $5-7 round trip.
Canoeing, Kayaking, and guided river tours are possible on the river. Check out Kampot Tours and Transport for some suggestions.
Kampot is also known worldwide for it's Pepper Plantations (Pepper website) (black, green, red and white table pepper) and locally for Durian farms (a giant, pointy fruit, weighing up to 12 kilograms). The Pepper from Kampot is the only food product in Cambodia exported worldwide, and will soon have the Origin Specific label "Kampot Pepper". Pepper farm tours are a popular activity here.
Other Things in Kampot
Keppler's Books
Salt Fields
Kampot Music
Epic Arts
Kampot's Caves
Ecran Movie House

Phnom Sasear is one of the caves about 10 kilometers outside of Kampot. The cave is small, and there is an ancient Buddhist shrine inside.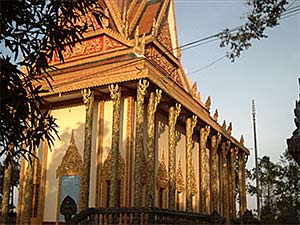 Getting Here
From Phnom Penh, a taxi or minibus for a 3 hour trip, about $5. From Kep, a half hour ride by car, tuk tuk or motorcycle. From SihanoukVille, a taxi for about $4/person, leaving from in front of the market, or $25 for the whole car for a 2 hour trip. Also, G'Day Mate offers a van service for about $7, or Rith Mony has a full sized bus. Check the Sihanoukville site for departure times.
Now from Koh Kong, sometimes you can get a morning bus to Kampot for $10 and a 4 to 5 hour ride.
While in Kampot, look for the Kampot Survival Guide and Kampot Dar'Laing Newsletter for more information. Jonathan also has a sketchbook of Kampot drawings available around town. Or better yet, just buy some land here, build a house, and relax by the river.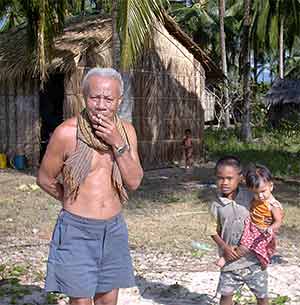 Most tourist to Kep combine their trip to one of Southern Cambodia's other coastal towns.
Kep is a quiet town, located on hills overlooking the the beaches and islands. Not much to do here, however the scenery is fantastic. Largely unpopulated, Kep was Cambodia's original seaside resort town.

Bokor Mountain is a popular destination because of the rough ride up the dirt track to the top, the views of Southern Cambodia and Vietnam, and the cool temperatures; not to mention the abandoned casino and summer palace of the former King. Most people stay at one of Kampot's Hotels for the night before and after a trip to Bokor. (Note: Bokor is mostly closed for the next couple years for construction of a new road and resort on top of the mountain).

SihanoukVille is Cambodia's largest beach resort. A couple hundred small guesthouses, as well as a few top quality resorts on the beach. SihanoukVille is Cambodia's second largest city.

Koh Kong is Cambodia's most popular eco-tourist province, along the Southern border with Thailand. Mountains, jungle, rivers and waterfalls. Also beaches, mangroves and tropical islands.

Now is the perfect time to visit the Southern Coast of Cambodia